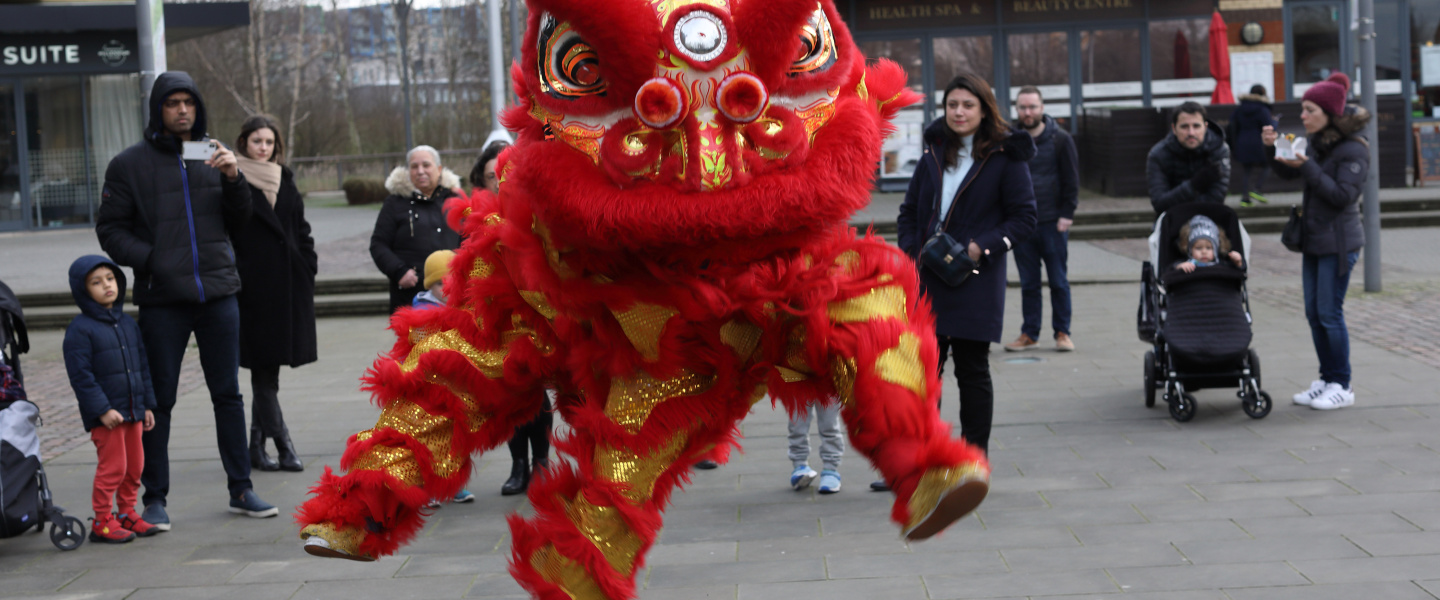 The arrival of the Year of the Rat was met with an enthusiastic response, as the sound of pounding drums marked the start of the festivities – and the commencement of the traditional lion dance. The dance was performed by Shaolin Fists, a well known kung-fu school in London.
Families and other visitors watched in wonder as the sleeping lion slowly came to life to the sound of the drums. What began as a slow and majestic dance soon exploded into a frenzy of spectacular moves as the lion approached the enthralled audience.
The balconies around the village square were also soon filled with curious spectators, who came out to enjoy a privileged viewing of the show taking place in the square.
Children who were present bravely stepped forward one-by-one to feed the hungry lion with oranges, an ancient tradition that brings joy and fortune to those who are lucky enough to be chosen to feed the beast. The lion continued its dance and approached more children in the square, batting its eyelashes to signal that feeding time has arrived.
As the show continued, residents were able to enjoy a variety of complimentary Chinese dishes which included Szechuan Beef, Sweet and Sour Chicken and Beef in Black Bean Sauce, among others. Vegetarian options and a variety of noodles were also available for anyone with vegan requirements.
Adding to the appeal of a wonderful afternoon, the weather was also kind on the day, allowing residents and visitors to fully enjoy the spectacle. Once the dancing was over, a cue formed as photo opportunities with the lion became available. It was the perfect ending to a celebration of GMV's diverse community.
Throughout history, lion dances have been a tradition in China, bringing good fortune and prosperity wherever they are performed. The beat of the drums is also believed to drive away evil spirits.
The Rat is the first of all the zodiac animals. People born during the Year of the Rat are known as clever, quick thinkers. They are successful, yet content with living a quiet and peaceful life.
Legend has it that the Rat became the first zodiac animal when the Jade Emperor organised a race. The Rat was able to trick the Ox into giving him a ride and at the finish line, before jumping in front of the Ox and claiming victory.
In Chinese culture, rats have been traditionally regarded as a sign of wealth and surplus. Because of their high reproduction rates, married couples also prayed to them for children.