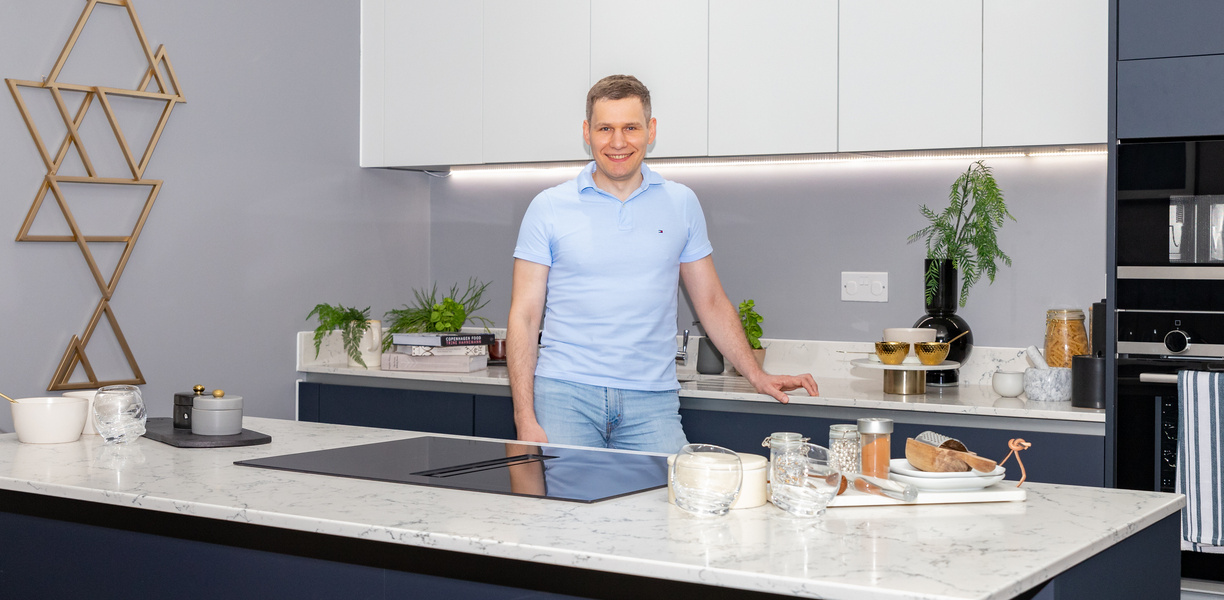 The right time for a dream move to GMV
Having the opportunity to move to the UK was a long-term ambition for Oleg.
Working as a software developer for a global bank, Oleg had spent a lot of time in London during his career and it had quickly become his ambition to secure the right job role to allow him a more permanent stay here.
While it was more than 10 years ago that Oleg determined that this would be his future path, the summer of 2023 proved the right time for things to fall into place.
Oleg explains: "With inflation rising and interest rates rising I wanted to lock my exposure to these financial risks. Now I have the fixed mortgage rate, which is a safe haven for me."
After a visit to the Marketing Suite at Greenwich Millennium Village, Oleg quickly made the decision that a new apartment at The Galleria, the latest phase of The Parkside Collection at Greenwich Millennium Village, was the perfect location for him and his family.
With the entertainment offering of the O2 and North Greenwich station just a 10-minute walk from The Galleria and the green spaces of Greenwich, including Greenwich Park and the adjacent Ecology Park on the doorstep, Greenwich Millennium Village has so much to offer residents.
Having spent time renting in the area around Greenwich, there wasn't ever any question that this would be the part of London where Oleg would choose to buy the first home for his wife and daughter.
"Having more space was one of the main drivers for making the move to Greenwich Millennium Village," adds Oleg. "Living in a smaller two-bedroom apartment with a child was quite challenging. You would not believe the amount of stuff a young child needs."
The family's new apartment at The Galleria now offers a superior specification, a versatile open-plan layout, stone worktops, fully integrated appliances, clever storage solutions and luxurious floor to ceiling windows which provide some of the most fantastic views over London and the River Thames.
Oleg adds: "If I was going to design my own apartment, this is exactly how I would design it. I always wanted to live with a view of the river and now I see the River Thames from my living room every day, which is awesome."
Another essential aspect for Oleg was the ease of access to the City, and Greenwich Millennium Village has excellent transport connections into London. With North Greenwich tube station just a 10-minute walk from The Galleria, it is just one stop to Canary Wharf, while Stratford and London Bridge are both within a 10-minute tube journey.
It's made a huge difference to Oleg, and he is thrilled to now be able to call The Galleria home. He explains: "With the savings I had, this was a great place to invest. For me, getting from home to the tube is just a 10-minute walk, and then it is just another 10 minutes to get to my office at Canary Wharf, so it is only 20 minutes from door to door.
"We often go to Greenwich itself. There are lots of shops and bars around there, which we enjoy, and then there is also Greenwich Park, which is huge with massive trees and is very picturesque. My wife really enjoys it, and so does my daughter. It's like a big playground for her."
It has proved to be a very special time for this young family, as they make that step to own their own home for the first time, and in the perfect location for them. Whether that's the many green spaces they can share as a family, the bright lights of the O2, the proximity to central London and the ease of the work commute, or the choice of great schools on the doorstep, this is clearly a destination designed to help families thrive.
Oleg is certainly thrilled to have finally seen his dream move become a reality. "The buying process was really smooth. The sales team were always available and were really helpful. Once you make the decision to buy at Greenwich Millennium Village, you don't really need to do anything."