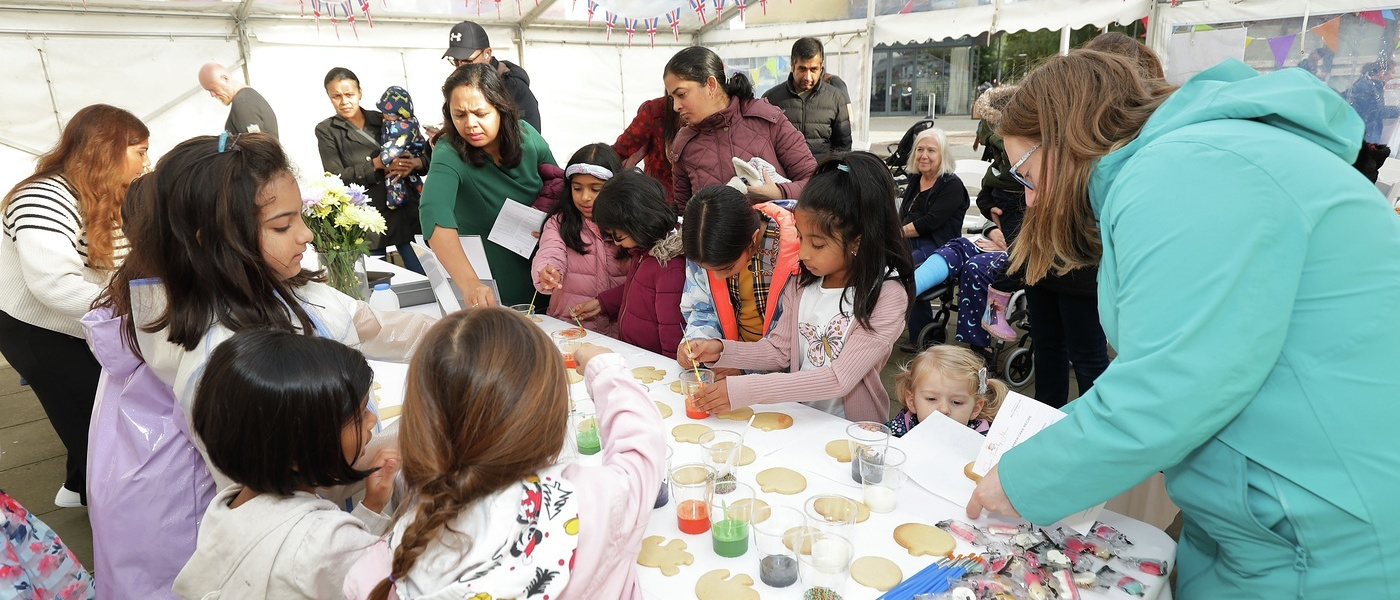 As the nation's favourite show, Great British Bake-Off reaches its season finale on TV, Greenwich Millennium Villlage held its own version of the popular baking contest last Saturday for local residents to showcase their baking talents.
In true Bake-Off style, The Village Square was decked with a large marquee tent, decorated in colourful bunting where guest baker Alicia Cortes set up for the day to showcase her two baking demonstrations followed by decoration contests. Alicia started off the morning showcasing her Technical Bake to the guests which involved the process of making her signature cinnamon rolls and a Signature Bake later during the day, showcasing a character cake with two layers of vanilla and chocolate sponge shaped and cut into the characters GMV. Recipe cards were also handed to guests so they could recreate the recipes from the comfort of their own kitchens.
Despite the heavy downpours in the morning, residents turned up in force to showcase their delicious looking bakes and entering them into the sweet and savoury bake- off competitions. The winning entry for the savoury bake was deliciously light and tasty pizza bites whilst a moist and fluffy chocolate cake won the sweet bake competition. Both winners received a £100 Amazon Voucher for their stellar baking efforts.
One resident at Greenwich Millennium Village added:
My daughters and I really enjoyed partaking in the GMV Bake-Off event which allowed them to get creative and bake not one but two different cakes for the sweet bake competition. It was a really fantastic day where all the children and parents at GMV got together to allow their creative juice to flow whilst also getting some fantastic baking advice and tips from the experienced baker that I can't wait to try at home
Throughout the day, guests were also invited to participate in a Halloween themed biscuit and cupcake decorating competition with prizes for the best decorations to be won. Six lucky winners aged from five to fourteen were treated to individual £30 book vouchers for their spooky Halloween creations.
Chris Bladon, Director of Greenwich Millennium Village said:
The Greenwich Millennium Village Bake- Off event was a great success with so many of the local community coming together to enjoy a fun interactive day out despite the rain. Many cakes and treats were eaten and we hope to have inspired some residents to try their hands at baking.