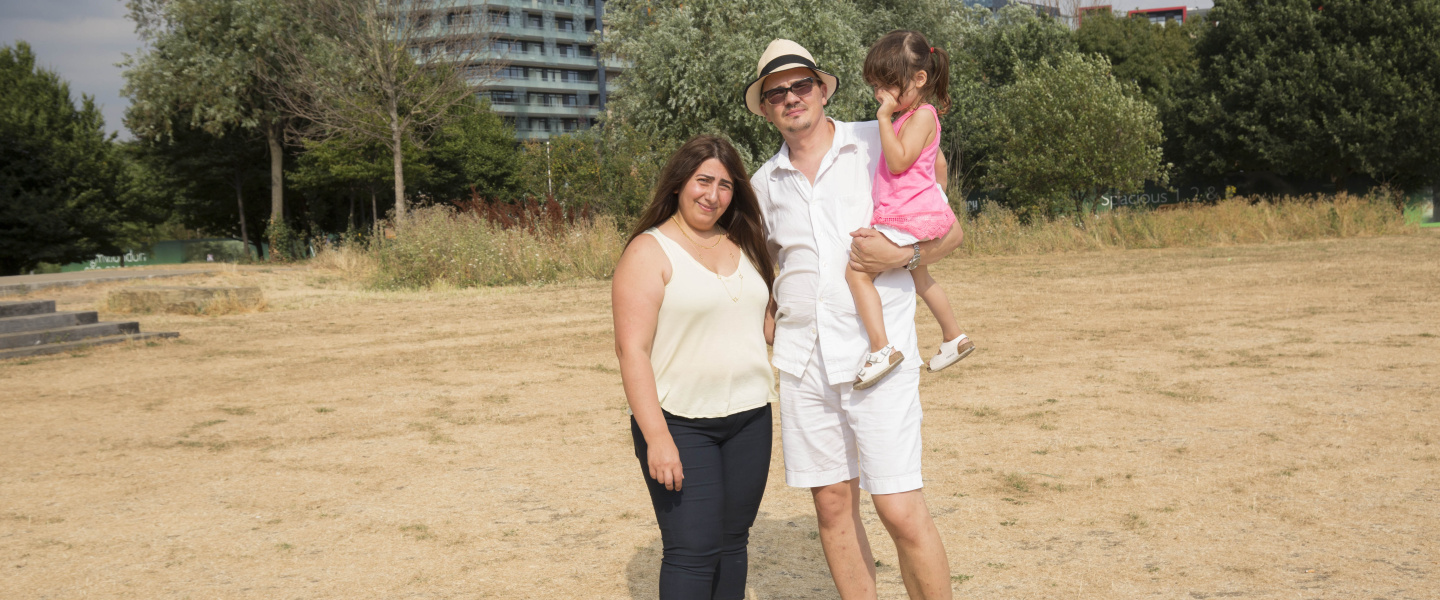 Prime location and community spirit are top priorities for home buyers in Greenwich
Greenwich Millennium Village resident Roxana Davoudi and her husband Andre had been looking to buy a home where their three-year-old daughter Estelle could grow. Ideally the home would be centrally-located, community-spirited and would offer an attractive payment scheme. Whilst locating such a home in London may seem impossible, Roxana found everything she wanted and more at Greenwich Millennium Village. 
Roxana comments:
There is an incredible sense of community here in the Village. Most of the residents are made up of families and that has enabled myself and my daughter Estelle to forge close friendships with our neighbours. There are some fantastic events that are organized on a regular basis. We recently held a planting masterclass called "Balconies in bloom" which was great fun. We also recently had our annual Greenwich Millennium Village Summer Fayre, where the community gathers to enjoy food and music. Events like these also give the children in the development a chance to come together and play. The ecology park also holds a range of fun activities. Estelle is always down there with her friends from the development and we often struggle to get her to leave!
Roxana was able to experience the fantastic community vibe that Greenwich Millennium Village has to offer thanks to schemes such as London Help to Buy. Through this scheme, all buyers are able to purchase a home in Greenwich Millennium Village with as little as 5% of the home's deposit and a mortgage for up to 55% of the home's value. The Government will then provide an equity loan of up to 40% of the property's value, which is interest free for the first 5 years.
Roxana states: "I was able to buy my first home thanks to the availability of London Help to Buy at Greenwich Millennium Village. The process was incredibly easy and Greenwich Millennium Village were extremely helpful."
Situated on the Greenwich Peninsula, Greenwich Millennium Village is within easy access of fantastic amenities such as The O2, the Peninsula Retail Park and Greenwich Shopping Park. The development's rich mix of house types and architectural styles has led to a diverse community of first-time buyers, families and downsizers, both from the local area and further afield. Surrounded by scenic green spaces, including a large ecology park and the River Thames, residents at Greenwich Millennium Village have their own slice of serenity in the city, which provides the ideal environment for meeting new neighbors.
GMV is located in a key commuter spot. With a superb local transport network, you can be at Canary Wharf within two minutes, at Stratford in nine minutes for the Westfield Shopping Centre, or in the West End in 20 minutes via North Greenwich Station on the Jubilee line. Travel by ferry is also available with the Thames Clippers ferry service from North Greenwich Pier only 0.9 miles from the development.