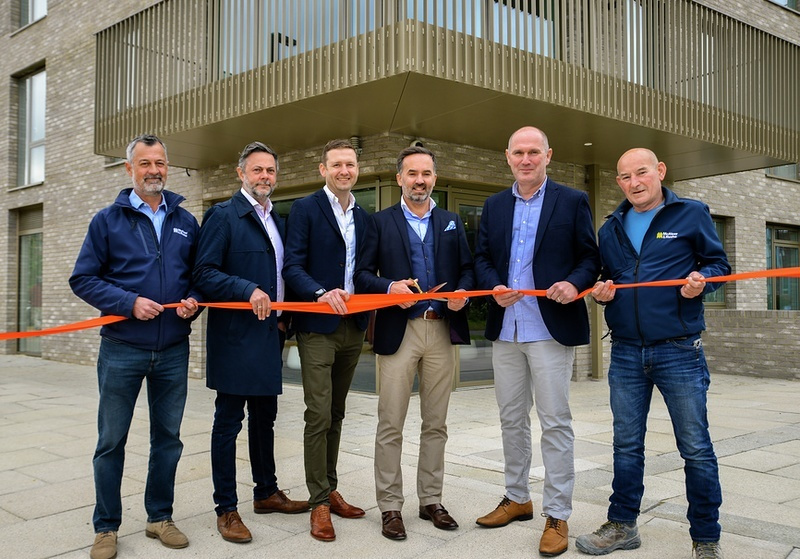 Greenwich Millennium Village opens first residents' amenities at 67 Park Central
On Friday 13th May, Greenwich Millennium Village, a joint venture between Countryside and Taylor Wimpey Central London, in association with the Mayor of London, officially opened the new residents' amenities at 67 Park Central, part of the Parkside Collection.
To mark this significant occasion, a ribbon cutting event was held and attended by directors from both Countryside and Taylor Wimpey Central London. The event included a traditional ribbon cutting followed by a tour of the new amenities.
Exclusive to the residents of 67 Park Central, these luxurious amenities are the first of their kind to be delivered at the development – a significant milestone for Greenwich Millennium Village.
Comprising a residents' lounge, equipped with a day porter, it boasts relaxed seating areas for socialising, reading a book or enjoying a coffee. Several co-working spaces have also been thoughtfully incorporated into the lounge where residents can use the space to work from home. In addition, there is also a games room featuring an array of first-class facilities including a pool table, darts, table football, TV and kitchenette providing residents with a place to unwind and socialise with each other.
Building on the community offerings already at the development, these new facilities provide the perfect place for residents at 67 Park Central to both work and play.
Chris Bladon, Director of Greenwich Millennium Village added: "The way we live and work have changed enormously since the pandemic and the new residents' amenities at Greenwich Millennium Village provide residents with everything they need to comfortably work at home, as well as spaces to relax and unwind and meet others in the building. . This is the first time residents will have exclusive access to these kind of amenities which unsurprisingly has proven popular with prospective buyers."
Chris Genner, Project Director Greenwich Millennium Village, says: "We are delighted that these facilities are now open to the residents of 67 Park Central. In addition to the community offerings already on site, it's another example of the fantastic facilities being delivered here at Greenwich Millennium Village."
Greenwich Millennium Village is one of the best-connected developments in the city, suiting a range of residents. Travelling into the city could not be easier with Canary Wharf from North Greenwich train station taking only two minutes, and with Stratford and London Bridge only 10 minutes away. The variety of apartment styles throughout this village community cater for diverse needs, meaning that working professionals and families alike can find something to suit their specific lifestyle requirements.
Residents can also enjoy the expanse of surrounding parkland as well as the unique on-site Ecology Park which is home to a diverse range of wildlife. A wealth of everyday amenities can be found across the Village Squares offering a wide variety of everyday necessities. The latest phases of the Parkside collection will also deliver further resident amenities including a community centre and a nursery.