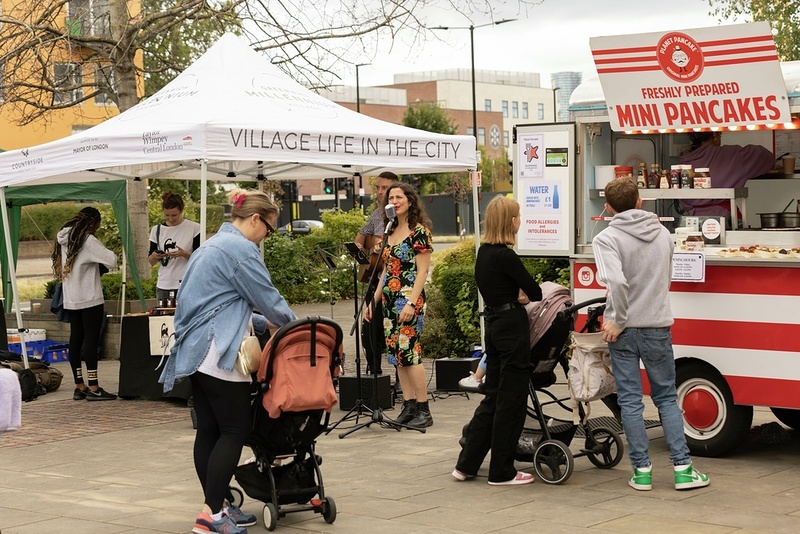 Greenwich Millennium Village hosts first ever pop-up market
Residents of Greenwich Millennium Village enjoyed a special taste of Greenwich on Sunday, July 23rd with the first ever Pop-Up Market.
Producers brought a selection of favourite local flavours to the Village Square off John Harrison Way, which was given a bohemian vibe with live music for a chilled-out Sunday morning.
Stall holders on the day included Lewisham's Ed Baker Artisan Bakes with a collection of sourdough loaves and sausage rolls, Andrew's Smokehouse with his stunning chalk stream-reared trout slowly cured and cold smoked in small batches, and Planet Pancake offering cooked to order mini pancakes with homemade sauces and sweet toppings.
Adding a bit of spice to life in the city, Cat in the Jam shared her collection of chilli jams created fresh from her home kitchen just a five-minute walk away, while The Cheeseboard provided a delicious selection of cheeses, jams and luxury biscuits from their delicatessen just the other side of Greenwich Park on Royal Hill.
The Village Square was bought to life by the incredible sound of blues and jazz singer Jessica De Giudici, who's gentle, soulful tones with life guitar accompaniment had people foot-tapping their way through their Sunday morning.
With a wide range of apartments and maisonettes to choose from, discover dream one to three-bedroom homes at Greenwich Millennium Village whether you're purchasing as an individual, a couple or as a family.