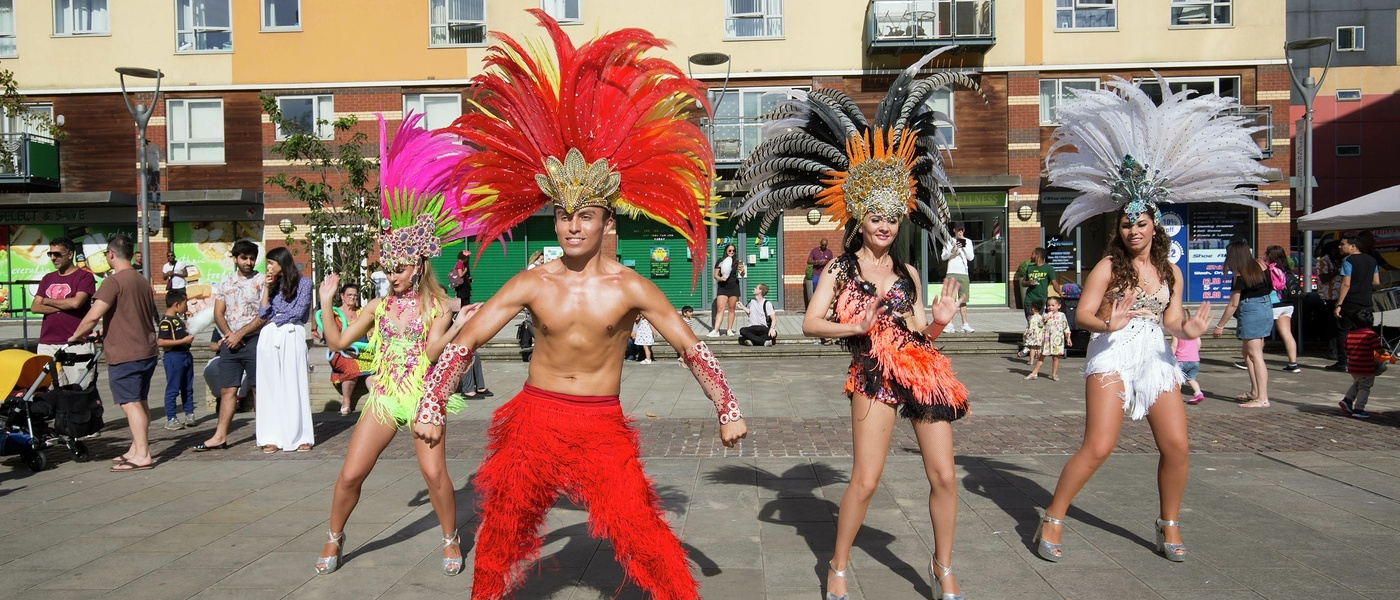 GREENWICH MILLENNIUM VILLAGE BRINGS RIO FLAVOURED CARNIVAL TO THE VILLAGE SQUARE
Last weekend, residents at Greenwich Millennium Village flocked to the square to watch and take part in a family-friendly carnival. The carnival-themed community event attracted residents and prospective buyers alike, as they made the most of the delicious food and took part in the spectacular entertainment.
The carnival was held from 12:40 pm – 4 pm and provided visitors with plenty of Caribbean flavours to sample. Local business Lime Hut was in charge of delivering up to 100 servings of complementary food for the residents, and made 'boom boxes' to-go for everyone in attendance. Carnival-goers had a choice of Caribbean chicken, jerk halloumi and beans with sweet potato, all freshly made. For those with a sweet tooth, this feast was followed by two carnival classics—ice cream and candy-floss!
The bustling square welcomed sequin-clad samba dancers moving to the sounds of drums. Music from the steel band further enhanced the lively atmosphere of the event, and the dancers drew everyone's attention with a selection of samba rhythms.
Younger children were certainly not left out of the fun. There was a face painter and a balloon modeller, capturing the youngsters' imaginations with an array of balloon animals and colourful face-paint designs.
Chris Bladon, Director of Greenwich Millennium Village, says:
The GMV Carnival proved to be very popular among everyone who attended. We are always looking for new ways to bring the community together and this occasion did exactly that. A huge thank you to all the vendors who did a great job of contributing to this special day. The food was delicious, and the entertainers were all brilliant. We are looking forward to hosting more exciting events in the coming months.