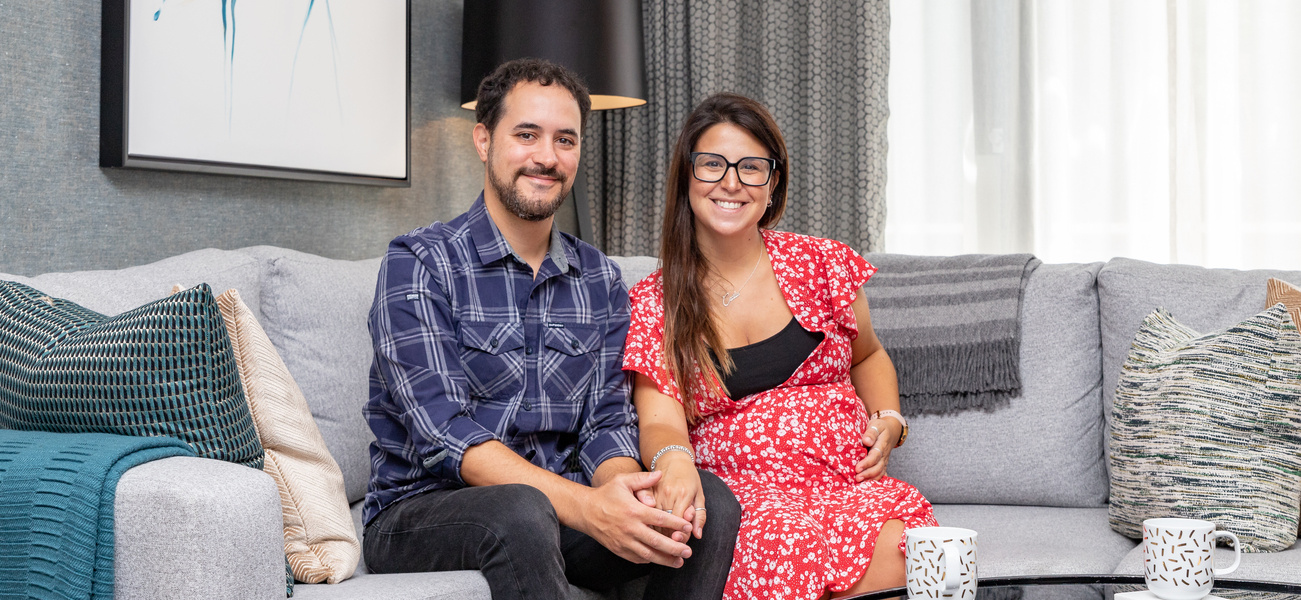 Family fall in love with friendly community and green spaces
For Cecilia and Ariel, the chance to own a home in central London was a dream come true, although to take that opportunity on the banks of the River Thames at Greenwich Millenium Village wasn't their first thought.
Cecilia explains: "When we first arrived in London, everyone was telling us to head west, so Greenwich wasn't in our plans, but after visiting friends who were living in this part of London we soon realised it was just perfect for us."
The couple fell in love with the surroundings at Greenwich Millenium Village, which has much so much to offer young families. With the concept of delivering village living in the heart of the city, Greenwich Millennium Village boasts both an abundance of greenspace on the doorstep, plus a wealth of amenities. 
After renting nearby, with a growing family and the cost of renting and other bills rising, it became clear that now was the right time to buy.
"We were looking to move house because our family is growing and we needed a bigger place," Cecilia continues. "With the rising cost of living, we understood that it was wiser for us to pay for our own house and our own mortgage, rather than to keep paying rent."
Cecilia and Ariel soon settled on a new apartment at The Galleria, a collection of superb one, two and three-bedroom apartments that is part of the latest phase of The Parkside Collection. Expertly designed with the comfort of residents and energy efficiency at the heart of the project, the homes at Greenwich Millennium Village feature a number of innovative energy-saving elements, saving homeowners up to £1,200 on household bills every year.
"When we got here we just fell in love with the place. Greenwich Millenium Village is such a vibrant and sustainable community with a lot to offer residents. We were particularly interested in its access to the City and Canary Wharf, and its close proximity to the River Thames and Greenwich Park."
Situated on the edge of London's thriving commercial and business scene, Greenwich Millenium Village has excellent connections into London. Residents can reach the Central London hub of Canary Wharf is just one stop on the London Underground from nearby North Greenwich station, just a 10-minute walk from Greenwich Millenium Village. Meanwhile Stratford and London Bridge can also be reached in only 10 minutes from North Greenwich station.

"As we were already renting in this area, we wanted to keep living within what we had seen was such a family-friendly community. We have met many friendly people here, and our daughter has made some great friends in the local park."

Having moved to the UK from Argentina, Cecilia and Ariel were concerned that buying a house in the UK would be a very different experience.

"This was the first time we had bought a house here. We were really scared about it and we didn't know what to expect, but we found the process of buying a home at Greenwich Millenium Village very straightforward. The sales team were helpful and responsive, and they made sure that we were kept informed throughout the process.

"There were some helpful incentives, which made the purchase more affordable for us, and GMV put us in touch with a mortgage broker who helped us to secure a mortgage."

Now it has become the home that Cecilia and Ariel had both dreamed of, and their new apartment in The Galleria at GMV will also welcome a new arrival very soon, when their second child arrives.

"We are so excited to be building our lives here and to have found a place that is perfect for our family. There are plenty of parks where we can have a picnic or let our daughter play in nature. This mix of being close to our offices and living in a green area is something we really value."