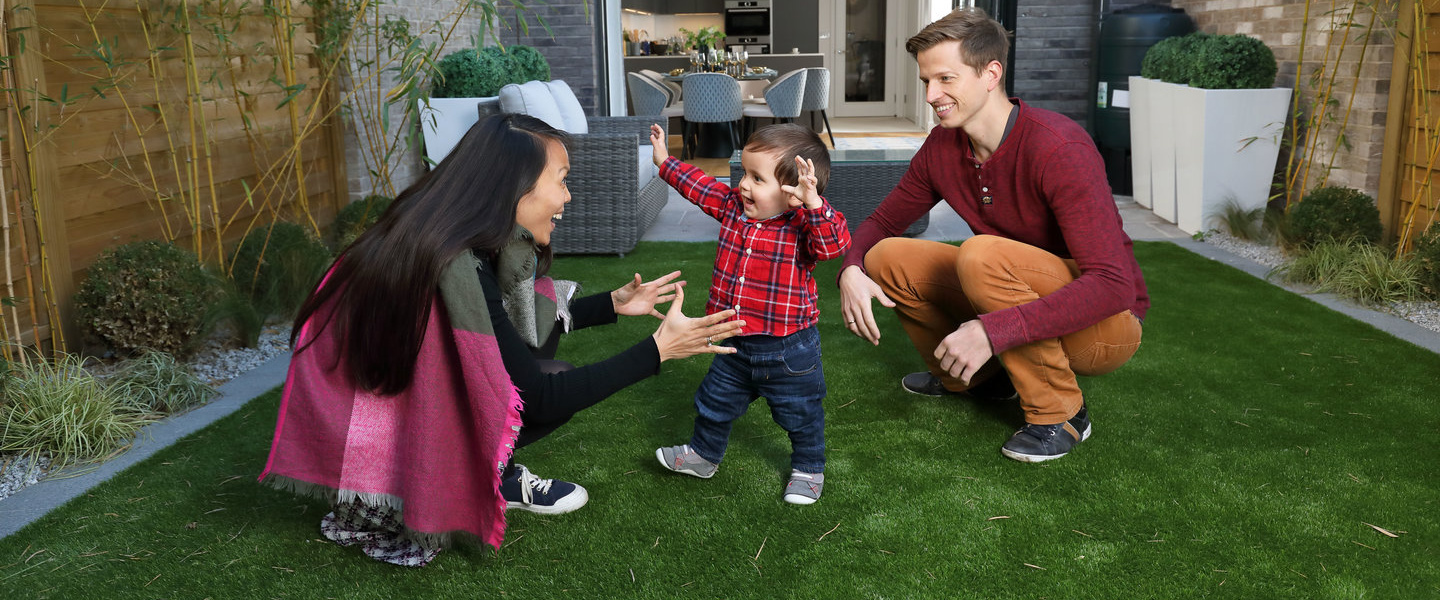 Ho Yei and her husband Markus knew their family would soon outgrow their rented 2-bedroom apartment in Elephant & Castle. This prompted their decision to begin the search for a new, larger home in which they could live with their son, Benjamin.
Ho Yei and Markus visited a number of homes, but it was Greenwich Millennium Village which really caught their eye. One of the first things that struck them upon entering the development was seeing the contemporary architecture complemented by tree-lined avenues, which creates a relaxed feeling of being away from the hustle and bustle of the city.
Carefully planned and designed with inspiration, Greenwich Millennium Village is a place where families can put down roots and enjoy life to the full. Stylish architecture sits comfortably in a beautifully landscaped environment, with a waterside setting that has plenty of open, green space.
Commenting on her first impressions of the development, Ho Yei says: "I really liked the fact that it doesn't feel like you're in London. There's an air of escapism and a village feel to the development, with numerous parks, open areas and cycle areas which make it a great environment for children to grow up in. There's even an Ecology Park within the development, which gives a special feeling of being in touch with nature while still being in London".
The Ecology Park is one of the most unique features of Greenwich Millennium Village. A focal point for the community, it's where residents can get a first-hand experience of nature, while local volunteers can get involved in conservation and management work. 85 species of birds can be found in the Ecology Park, along with over 20 species of butterfly and over 16 species of dragonfly and damselfly.
The first home that Ho Yei and Markus visited was the Courtyard House in Commodore's Quarter, which they immediately warmed up to. However, it wasn't until they also paid a visit to the Townhouse that they knew this would be their future home.
What became immediately apparent to us was that by paying just a bit more we would be able to enjoy a lot more space with the Townhouse. Our parents live in Europe so we thought the extra space would be very useful to have whenever they visited. We also noticed that the rooms were quite large and this is rare to see in London nowadays. It also helped that we really liked how the interior of the home was designed. The ground floor, where the kitchen and living room were located, had an open-plan living area which would be perfect for spending quality time with the family or entertaining guests. We also noticed that the integrated appliances in the kitchen were very high-quality meaning that the place was very inviting to move straight into".
Highlighting the community aspect of living on the development, Ho Yei says: There's definitely a feeling of there being a real community here. For example, we were recently able to enjoy a fantastic Carnival themed event held at the village square in September. There are also many Facebook Groups for the residents here which means that people can easily get together with others who are like-minded or find themselves in the same stage of their lives".
The thought of buying new a new home today can be daunting, but Ho Yei describes the process of purchasing as being "very quick and only taking approximately four weeks".
The latest phase to launch at Greenwich Millennium Village, Commodore's Quarter, features a select collection of superior, brilliantly designed homes, clustered around a communal square with a play area and space for retail and convenience. But living at Commodore's Quarter doesn't just mean owning a stylish, contemporary home with everything you need nearby. It's all about being part of a small, close-knit community shaped by traditional values, as well as having opportunities to spread your wings and enjoy the best of London life.
A range of 1-4 bedroom apartments and homes are currently available for purchase at Greenwich Millennium Village, ranging from £399,995 for a 1-bedroom apartment to £900,000 for a 4-bedroom Townhouse. Show homes are open daily from 10-5 pm. Those interested can call 0208 023 8034 or email GMV@cpplc.com to book a viewing.